"God Pronounced Presence" A written Memoir by the owner Miracle Sheppard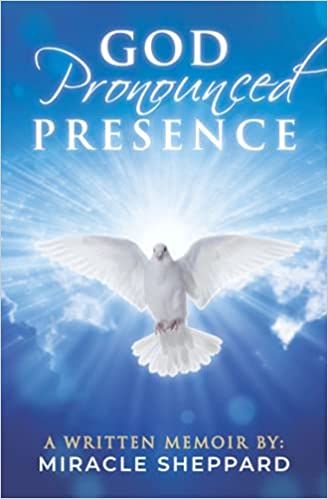 Book Signing and Talk to the Author Dates:
Monthly:
11/19/21 from 6:30-8:30pm
12/10/21 from 6:30-8:30pm
01/14/22 from 6:30-8:30pm
Address: 1511 Life Ave Dallas, TX,75212
Hello you are invited to the book signing for God Pronounced Presence written
by the author Miracle Sheppard who is also the founder and sole principal owner
of Peaceful Payback LLC. This book tells the background of how her company
got started in her struggle with a horrible chronic illness. God gave her the
desires of her heart when she conquered this chronic illness in the name of
Jesus Christ. Please purchase a book when arriving, or in making a preorder
purchase while supplies last. Please RSVP 24 hours in advance. Also be sure to
call to preorder a book or for any other questions.
Book price-$20
*Note- If books run out there is always the option to pre-purchase them at the
in person events so when the next shipment arrives your book will be set aside
for you to either come pick it up or for us to hand deliver it to you.
*However there will be more in person events in the future where you can purchase them as
well.
Peaceful Payback speaking services has a wide range of meaningful subjects it speaks on, can, judging from the CEO and founder's experience at just her young age of 23.
The topics that are included in them are in the subjects of business, health and wellness, entrepreneurship, real estate, topics of discussion ,and getting in tune with God in your business.
Topics Experienced in the Founders New Diagnosis of Multiple Sclerosis
Journey as Teen to a Young Adult
Having patience
Forgiving
Trusting
Everything works for the good of God
Earthly angels sent to me
Enduring
First getting diagnosed
Being introduced to God
The school struggle
The devil seizing my voice
What the devil took from me
The dreams spiritual dreams I experienced
The struggle to find the true religion
First going to IBOC
Night that I got my healing
Trying to fill the void I felt
Homosexuality I experienced
The bullying I went through in school
The hospital stays I experienced
The MS treatments I had to take
The week long not being able to go to sleep
The counselors I went to
The relapses I had
The non- support I got from my school
The separation of friends
How I felt with lesions of my brain and more coming
How I got my business
What lead up to my destiny
The love of God
My trip to Jamaica
Watching the Black Panther movie
Going through useless spending of name brands
Working out
Wanting to die
Losing my straight thinking
The effects of stress
Finding hope
Taking many medicines
Trip to Houston
Living the 23rd Psalms
Required to silence
Losing to win
Temptation
sMy now became learning disability
Vanity
Loving myself
Depression
Spiritual awakenings and dreams
Therapies
Refusing treatment
The skin I'm in
Practicing my leadership
Trip to Pinkston High
Parts of me the devil attacked
Walking on water
Trailblazing
Swag on my MS
Pseudo Bar-Bar
Love life
My love to write
Fighting bullying
My discovery of religions
My love of speaking
My memoir
Challenge of my faith
Side effects of steroids and medicine
My determination to get my education
Learning humility
Playing lacrosse
Learning my roots
Living the life at the age of 10 minus
Paranoia
Suicide attempts
Interning at the Bank of America
The Year Up Program
Toastmasters
Humor in the hospital
Love of my family
Beauty in the struggle
Joy I found in music
Spiritual books that spoke to me
Discrimination I experienced that was contradictory to the situation of the woman my school was named after
Going to college
Tutoring
Being anointed
Trip to aunt's house after getting healed
Topics Experienced by the Founder when Opening her Business:
The writing of my book
Getting a relationship with God
Persecution
Isolation
I was my sister's keeper Insensitivity of DISD
Positive thinking
Skills to help me cope
Reaching my first 100K
Flashbacks
Knowing how much to stand
Reasoning with my gut feeling
Being spirit lead
Feeling inadequate
Learning to pray right
Trying alcohol
Trying to smoke
Being a chicken-naterian
Meeting my mom's other kids
People that inspired me
Health and Wellness:
• Staying Well with a chronic illness
• Healthy eating
• Exercise Routine
Topics Experienced by the Founder when Opening her Business:
Becoming a pioneer of something completely new
Getting my first two rental properties at age 20
My SCORE mentor
Contact Us Today!!